Our team of journalists and designers who will create your book have many years experience in the publishing industry.
They are experts in their field and spend as many as 28 working hours creating one single book.
Quality and perfection are paramount at Your Story In A Book and the books we create will always impress with the highest writing, design and production standards.
You may be surprised to discover just how much work is required in creating your book.
Here's how it's done:
STAGE 1
Interview
One of our skilled journalists will interview you and get the most memorable facts and stories about you or your company. Interviewing someone and getting the best from them is an art form in itself.
STAGE 2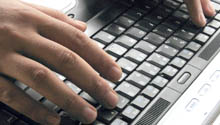 The Words
Our journalist will then sit down and write between 3,000 - 4,000 words telling your story - just like you'd read in a book bought in a High Street bookstore. Only this time, it's your very own story you'll be reading in a book.
STAGE 3
The Photographs
As well as crafting the narrative, we will also take your photos and use them to illustrate your story to full effect throughout the book. Each photograph has to be collated, chosen, cropped and colour-corrected before being placed on a page.
STAGE 4
The Design
Each page of your book is individually designed to get the correct balance of words and pictures and to tell your story in a very readable and eye-catching way. Our full-colour gloss paper dust jacket covers never fail to impress and our designers, quite rightly, spend a lot of time choosing just the right picture and design for the front and synopsis words for the back.
STAGE 5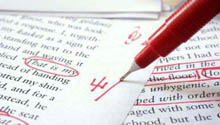 Proofing and Corrections
We will send you a digital version of your book for you to check and make any corrections necessary before publication.
STAGE 6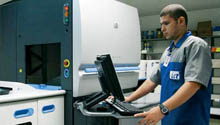 Print
The latest in high-tech digital printing technology is used to create your stunning, high-quality book. You will be amazed at the brilliant text and photographic reproduction on quality Forest Stewardship Council-certified paper, top-notch binding and hardcover of the luxury coffee table book about you or your company.
An exclusive luxury coffee table book featuring your story comes in two sizes - large landscape, measuring 33cm x 28cm (13in x 11in) or large square, measuring 30cm x 30cm (12in x 12in). After being interviewed by a professional journalist, who will write between 3,000-4,000 words, our designers will take the manuscript along with your photographs and create a unique book of your story. Your hardback book with full-colour laminated dust jacket comes with durable library binding and black linen covers made from 100% cotton treated with water-based acrylic for extra resiliency. Only high-quality Forest Stewardship Council-certified paper is used for the pages of your book. Every one of our books is totally unique and to discuss your individual requirements, please contact us by email at norman@yourstoryinabook.co.uk or by calling 01505 816980.